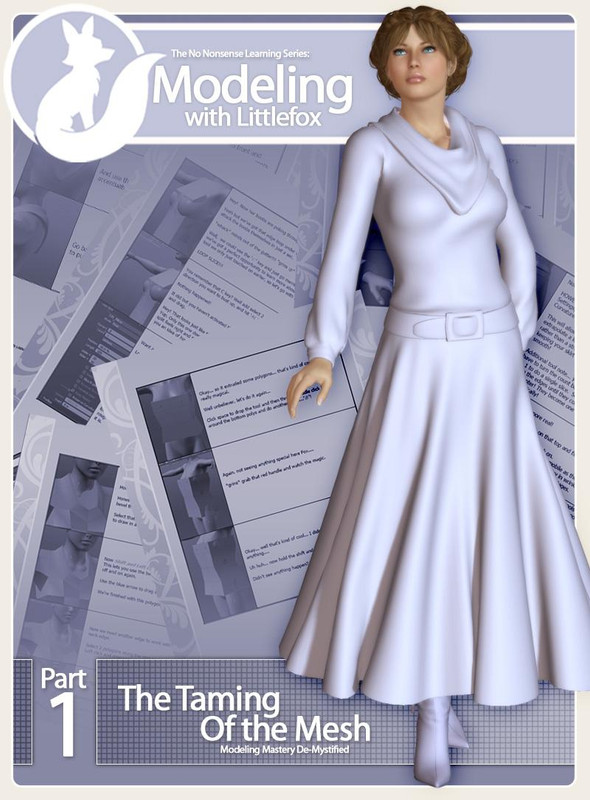 Modeling with Littlefox
Attention: This file is from Old RuntimeDNA.
In this product, you'll find a great many things that set it apart from other tutorials on the market.
This product teaches in MODO.
You do not however have to know Modo to use this eBook. I introduce you to everything you need to know in the software as we go. So if you've had the program for a while, but haven't gotten past the learning curve, we'll get you past it!
Most of the techniques I use can be used in any modeling software (except perhaps Rhino), however it will require that you know your software in order to translate the tools I use into your own program's version.
If you are a beginner to modeling entirely, I recommend picking up a copy of the demo version of Modo and practicing on it until you figure out what each tool is and how the technique works. I know Modo is a huge expense that you likely cannot afford at this point and I do recommend many less expensive options once you know what's going on. Work with the Demo first to figure out how you model, then once you're stable on the technique, you can figure out how to use other tools to do the same thing.
For students and teachers, Modo has an Academic version that is on par with Silo on pricing and has a way of upgrading later to a full version. Check out Luxology.com for details.
*This product only covers the modeling aspect of content creation. It does not delve into mesh optimization, uvmapping, texturing, rigging, etc.
https://www.daz3d.com/modeling-with-littlefox

You need to be a member to see this