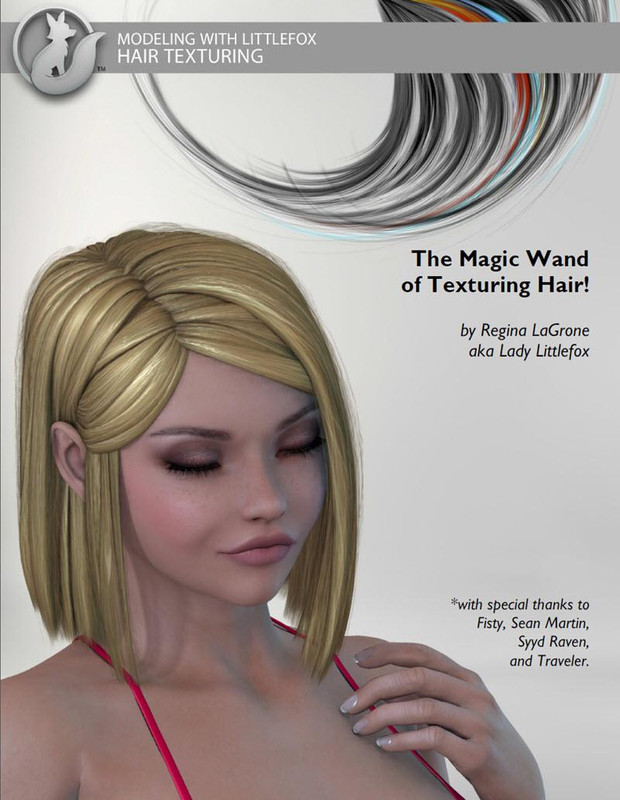 Modeling with Littlefox 5 – Hair Texturing
Attention: This file is from Old RuntimeDNA.
So, now you want to texture hair?
I can show you that…
You want to make textures you can sell?
Okay, can show you how to do that….
You want to do it without resources so that they are all yours, no copyright issues?
From scratch??? Ooookay, we can do that too…
And you want it to be easy to understand, quick to do, and reusable…
Hey, what am I? A magic wishing fox?
Okay…. I'll make it as easy as possible, quick, and reusable…
And….
AND?
And you don't want it to look like a wig of straight lines… needs to look like hair.
*glares*
You want my magic wand, don't you?
Who told you I had one?
*glares at testers…*Gunna tie some loose lips in knots.
Once upon a time, I had everyone convinced this is super hard, took a lot of time and was enough to drive you crazy…
Okay, fine…. but your wish is gunna cost you. You want my magic wand, you're gunna have to buy the tutorial.
133 pages of pure Littlefox advice, wisecracks, joking, and guidance.
NO Stuffy this button does this and this button does that glossaries. You are here to learn how to texture hair, not re-read a stuffy old manual! 😉 We learn by DOING!
NO set up everything like shown in the picture, hit the button and you're done. Each hair is UNIQUE as is each Texture. I teach you how to tailor make your textures to the hair!
NO noise and blur hair textures!!! We are going to make from scratch real looking hair!
NO hair resources! I teach you to make your own!!!!!
NO brush resources! I teach you to make your own!!!!
MANY MANY MANY Big pictures by which you can actually see what I'm doing and instructions for each step.
Did I mention Littlefox wit and zaniness making this an easy read?
This tutorial covers the aspects of Texturing in Photoshop, and creating Mats/Material Presets in both Poser AND DS.
The tutorial is specifically written for Photoshop users. The techniques of creating brushes and using those brushes may or may not apply to all paint programs.
This tutorial assumes you have the basic skills to navigate photoshop's layer tools, where the tool bar is and being able to use the paint brush at least a little.
I strongly recommend the use of a tablet with this tutorial but it is possible to do without one.
https://www.daz3d.com/modeling-with-littlefox-5-hair-texturing

You need to be a member to see this