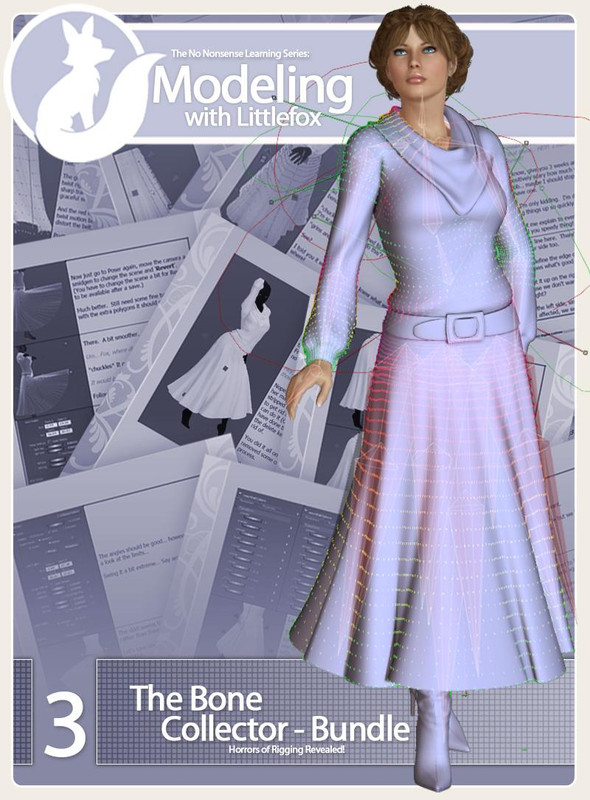 Modeling with Littlefox Part 3 – D|S AND Poser
Attention: This file is from Old RuntimeDNA.
In this product, you'll find a great many things that set it apart from other tutorials on the market.
I don't assume you know how to rig a model or even what rigging is.
If you come into this only knowing that you want your clothing model to bend with your figure, you're in the right place. I'll be offering explanations with each step that hopefully will make sense to everyone. Newbies especially!
I don't focus on tools, I focus on getting the project going.
In this tutorial, we get you through rigging probably one of the most difficult things in poser, a dress! We'll go step by step focusing on what you NEED to know in order to make your own skeletal setup for motion inside your clothing and how to fine tune existing joints.
I do teach tools and technique in ACTION, not in theory.
No Encyclopedia of tools!
No tool by tool dissection of what every dial does!
As with the first tutorial, I'm going to be teaching you the tools you'll actually use and how to use them without spending time on every single dial, switch, tool in the tool box.
I do teach you by doing an actual PRODUCT QUALITY DRESS!!!
As with the first tutorial, we're continuing on with an ACTUAL dress into rigging! I've even included the mesh created from the two previous tutorials to allow you to work side by side with me.
I do go STEP-by-STEP! Every single one of them!
If we use a tool, it's right there what I used and how to get at it.
Not every tool in the book, just the ones you need. And I'm not going to skip steps and just assume you can keep up. Nope, we're going start to finish, every step I do is illustrated and explained so that you can do it yourself!
THIS TUTORIAL CONTAINS BOTH THE DAZ STUDIO AND POSER METHODS OF CREATING RIGGING FOR CONFORMING CLOTHING!
The resulting figure will function in both Poser and DS as I will be teaching you LEGACY rigging, not weight mapping.
This product teaches Legacy (Sphere Zone) Style Rigging in DAZ STUDIO and POSER.
To use the D|S Portion of this tutorial it is necessary that you own one of the following:
1) D|S3 and the Figure Setup Tools (preferably the Figure Setup Bundle)
2) D|S4 Advanced and the Content Creation Toolkit (CCT)
3) D|S4 Pro
Any one of these options is fine, however D|S does not come with Rigging capability EXCEPT in the Pro version of D|S4. All other versions you must purchase an Add-on in order to create your own rigging.
Poser users are recommended to have Poser 8 or above purely for stability reasons. Versions below Poser 7 Pro are capable of following the tutorial, however it will be more difficult.
*This product only covers the rigging aspects of content creation in Poser. It does not delve into modeling, texturing, uvmapping, etc, nor does it address rigging using weight mapping.
https://www.daz3d.com/modeling-with-littlefox-part-3-dsposer


You need to be a member to see this