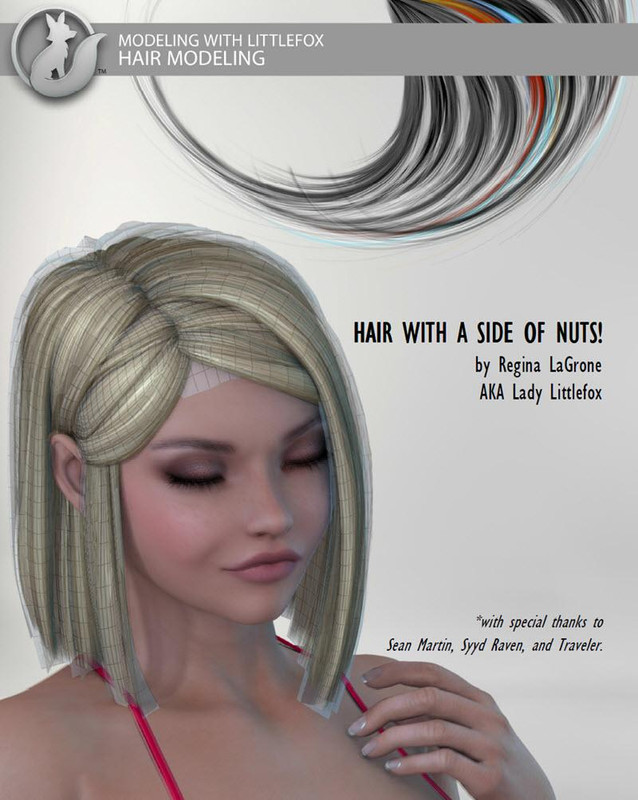 Modeling with Littlefox 4 – Hair Modeling
Attention: This file is from Old RuntimeDNA.
So, you wanna learn how to do hair? You realize you're nuts right?
I'm not talking about teaching you the hair room madness or the generated fur fun.
We're talking polymesh hair that sweeps and waves and ripples with lovely undulations and turns your brains to gooey tofu with a side of pecans….
Seriously! I hear squirrels in your future! RUN!!!!!
*blinks* You're still here?
Are you sure there is no way I can talk you out of this?
Seriously!!! Big nasty squirrels with huge sharp teeth!!!!
They've got RABIES and BAD BREATH!!!!! *peers* Wow… you are serious…
Okay…
But let's lay down some ground rules.
1) No Whining "It's too hard! It's too hard!"
2) No Back Talk… But…but… but ….
3) No Running in the halls.
4) No sticking gum in your little sister's hair.
*giggles*
Okay: seriously, hair modeling is one of those things that can drive you positively nutters. It's hugely rewarding and lots of fun, but….. man, it can drive you NUTS if you don't approach it from the right direction… which isn't always easy.
If you're absolutely positive you're ready for this, take a deep breath and continue on to the next page….
Oh, and relax. It's not really that hard. I just enjoy scaring folks in the first chapter to make it look easier than they thought. ;P
146 pages of pure Littlefox advice, wisecracks, joking, and guidance.
NO Stuffy this button does this and this button does that glossaries. You are here to learn how to model hair, not re-read a stuffy old manual! 😉 We learn by DOING!
NO rehashing tutorials you've already covered! While I am still teaching you the tools, I'm going to assume you already know how to use the basic tools since we covered those in tutorials 1 and 2. This one is building on those skills so there will be a few reminders, but not many.
MANY MANY MANY Big pictures by which you can actually see what I'm doing and instructions for each step.
Did I mention Littlefox wit and zaniness making this an easy read?
https://www.daz3d.com/modeling-with-littlefox-4-hair-modeling

You need to be a member to see this