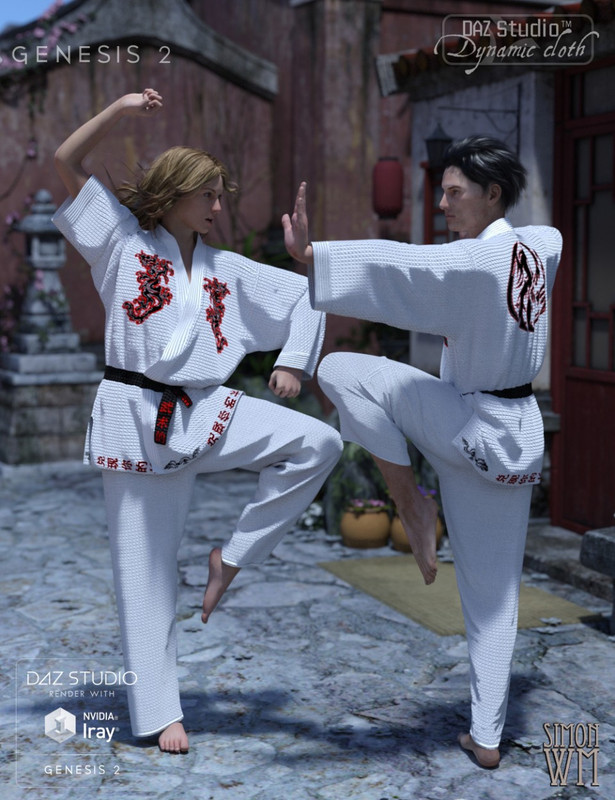 Dynamic Martial Arts Gi: Genesis 2
The Dynamic Martial Arts Gi for Genesis 2 is a set of dynamic cloth designed by Optitex & SimonWM and rigged to Genesis 2 Male and Female. It has been tested with most Genesis 2 morphs male & female and it should fit almost any shape as this set includes a medium size, a large size and garment presets to resize the medium set to a small/x-small size. (Tighter in between fits can be achieved if you have the advanced DAZ Studio Dynamic Clothes plugin with x% and y% shrink options for clothing panels where you can customize fits and make additional garment presets.)
Since the rig in a dynamic cloth acts only as preliminary positioning of the clothes and the simulation takes care of placing the clothes correctly around the model's body, this type of loose robe fits perfectly on 99% of any male and female version of the Genesis 2 mesh and many Genesis body shapes as well.
The set includes several textures and options that multiply the available styles capable with it. Material poses are included for both DAZ Studio renderers; Iray and 3Delight.
https://www.daz3d.com/dynamic-martial-arts-gi-genesis-2?


You need to be a member to see this