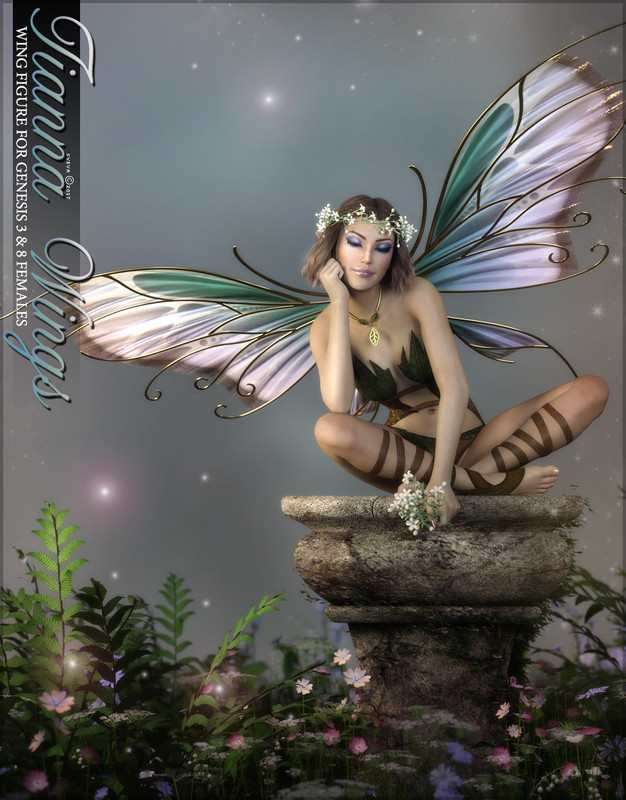 SV's Tianna Wings Genesis 3 and 8
SV's Tianna Wings for Genesis 3 Females OR Genesis 8 Females (both sets of files included)
– 01 Tianna Wings Figure for Genesis 3
– 01 Tianna Wings Figure for Genesis 8
– 01 OBJ File included for use in other 3D Programs
– 20 Wing Colors
– 02 Any Color Options
– 06 Metal Options for Wing Veins
– 02 Different Style Transmaps
– 01 Design Overlay in Dark Option
– 01 Design Overlay in Light Option
– 02 Glitter Edges Options in Gold & Silver
– 06 Utility Options for Metallics/Design
– 40 Material Options Total
– 06 Tip Instructions included in the Library
– 17 Morphs Include:
– ADJ_Wings Back In Out
– ADJ_Wings Move Up Down
– ADJ_Wings Rotate Front Back
– ADJ_Wings Rotate Left Right
– Flap & Shape 01.dsf
– Flap & Shape 02.dsf
– Flap & Shape 03.dsf
– Flap & Shape 04.dsf
– Flap & Shape 05.dsf
– Wings_Close.dsf
– Wings_Down + Smaller.dsf
– Wings_Down.dsf
– Wings_Flap_Down.dsf
– Wings_Larger.dsf
– Wings_Left_Down.dsf
– Wings_Right_Down.dsf
– Wings_Smaller When Up.dsf
– Features: Tianna's Wings have been drawn by hand and modeled, they use a rigid weight map to avoid distortion, and will automatically attach to the back of Genesis 3 or 8 (please use the wings designed for each figure in the corresponding Library folder to avoid issues!) The Flap & Shape morphs are custom created to give you several quick looks, while the other morphs give a bit more control, and the adj morphs will be helpful in certain poses! Tianna's Wings are hand painted and feature an additional hand painted design to overlay onto the wings, as well as hand painted transmaps, metallic glitter maps, and a normal map! Also included is 02 "Any Color" Wing options one which loads as almost white and one which loads as dark grey, when you wish to use a light color, load the light wings, and load the dark for darker colors. To get EASY custom looks, follow the included tips, and know that changing any of the colors in the surface tab will give you a new result! Try changing Base Color, Diffuse Overlay Color, Metallic Flake Color, Glossy Color, and Top Coat! Everything can be customized!
https://www.renderosity.com/mod/bcs/svs-tianna-wings-genesis-3-and-8/123770

You need to be a member to see this