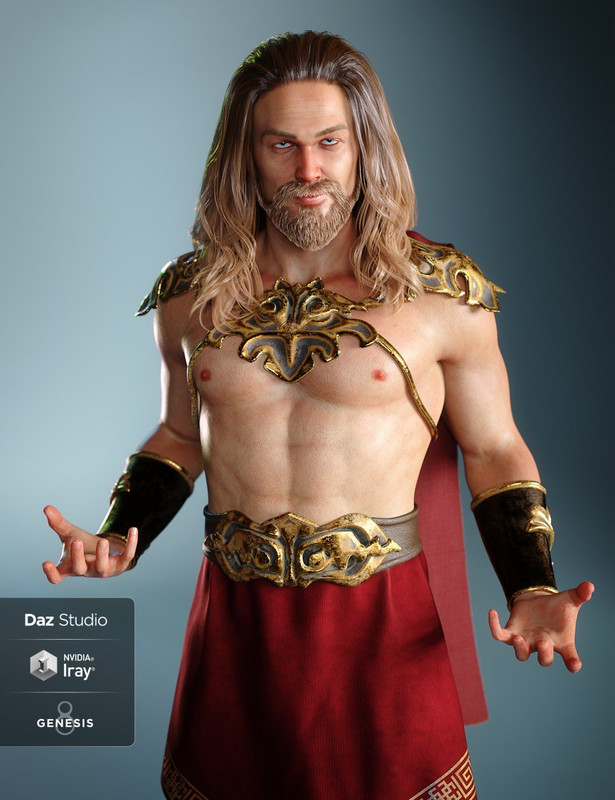 Elios 8
Elios 8 is a strong, courageous, and loyal battle-born leader. He wields immense power and has a commanding presence. Even though his serious temperament can be intimidating to those around him, he is rarely the catalyst for conflict, often ensuring a harmonious existence with his surroundings. But get on his bad side and you will most definitely come off second best.
Key advancements with the Genesis 8-based Elios 8 include:
Backward Compatibility (Read More)
Ultimate Content Compatibility (Read More)
Improved Expression Capabilities (Read More)
Updated Eye Technology (Read More)
Enhanced Finger/Toenails (Read More)
Muscle contraction added (Read More)
Default Pose Change: (Read More)
More Realistic Bending: (Read More)
Better Shoe Fit: (Read More)
Easy Shape Migration: (Read More)
Skin Material Advancements: (Read More)
For additional savings, check out Elios 8 Starter Bundle and Elios 8 Pro Bundle.
What is Genesis 8? Click here to find out more.
Elios 8 measurements courtesy of Measure Metrics for Daz Studio:
Height: 6′ 2″ (187.98 cm)
Chest Circumference: 45.1″ (114.6 cm)
Waist Circumference: 35.7″ (90.6 cm)
Low Hip Circumference: 39.8″ (101.1 cm)
https://www.daz3d.com/elios-8

You need to be a member to see this