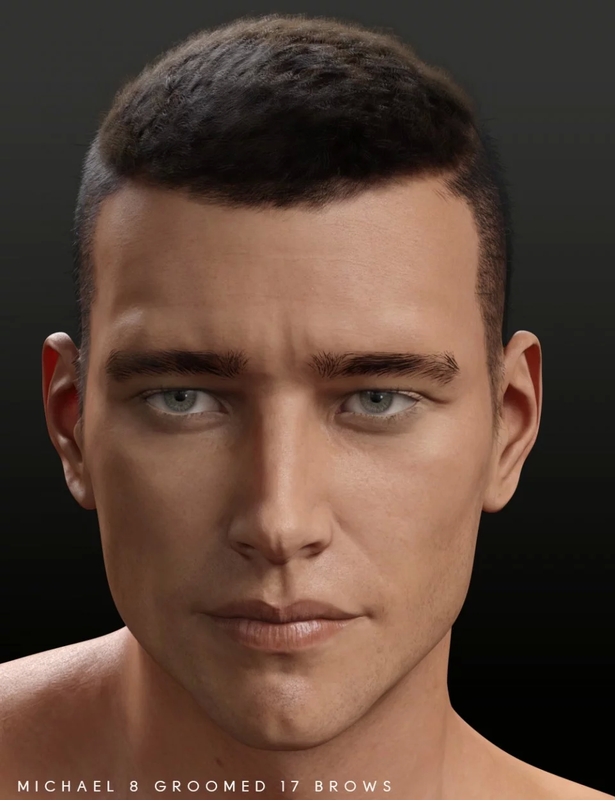 Bold Brows Fibermesh For Genesis 8 Males
Bold Brows is a comprehensive eyebrow merchant resource for Genesis 8 males. They can be used in both commercial for character set sales and/or your every day renders.
Bold Brows is optimized for Iray only.
Bold Brows contains 70 unique slightly asymmetrical fibermesh brows. No two are alike!
Bold Brows contains a BROW ERASER script to remove painted on brows from Genesis 8 texture maps. Easily remove them with a click of a button.
Brow Options:
20 Average Brows – slightly messy and of normal thickness
20 Groomed Brows – more groomed or of trimmed/ waxed size
10 Sparse Brows – Very few Hairs that are fairly messy. Great for older males or for adding a varied length to the other sets
20 Thick Brows – These range from over the top thick/hairy to the characteristic caterpillar types. Suited well for larger males like the Brute.
As all the brows are unique, they vary in width, length, and arch height. Perfect to fit any character.
5 material presets – Auburn, Ebony, Blonde, Brown, and Gray.
Also included – A comprehensive merchant resource guide in pdf format for directions on how to distribute these with your commercial character creations.
https://www.daz3d.com/bold-brows-fibermesh-for-genesis-8-males

You need to be a member to see this