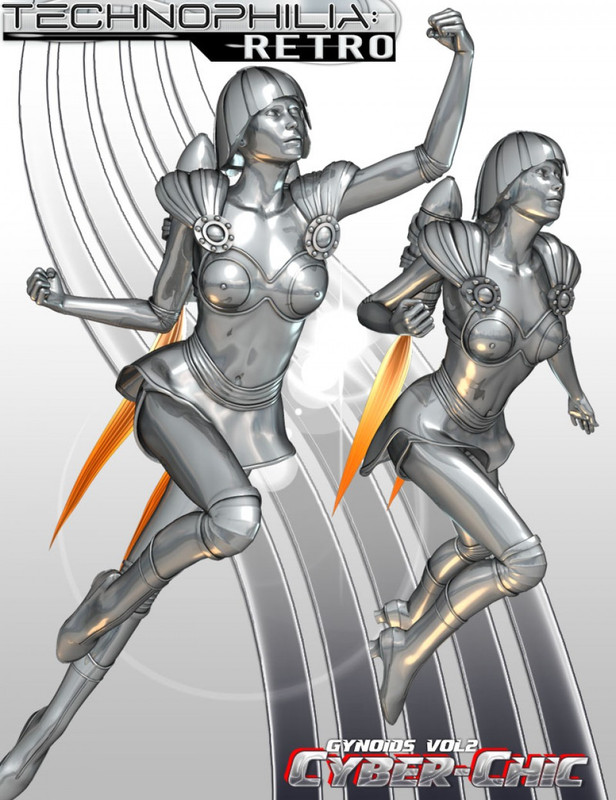 Technophilia Retro – Gynoids V2 – Cyber Chic
Created not only as a weapon of the frightful war that the government scientists were helping to wage, the Cyber-Chic division also stood as a symbol for Justice, Strength, and for the entire nation. These metallic skinned goddesses of the air helped to keep the threat of the enemy's chemically enhanced super soldiers on their own soil. Beaming skin of metal, jets of orange, and the strength of 100 men turned out to be a force that no enemy could destroy" – Diary of Doctor Albert VonEinstine (No Relation) – U.S. Cyber Chic Division Development (C.C.D.D.) July 4th, 1959.
Welcome to the world of Technophilia Retro… The Realm of Vintage Twisted Technology. Within this dark world, mad scientists wield their awesome and tainted knowledge to pervert the laws of nature. Creatures and creations, built by their own hands are brought to life through the forces of electricity and reason… Love the Electricity, Love the Metal.
https://www.daz3d.com/catalog/product/view/id/28637


You need to be a member to see this