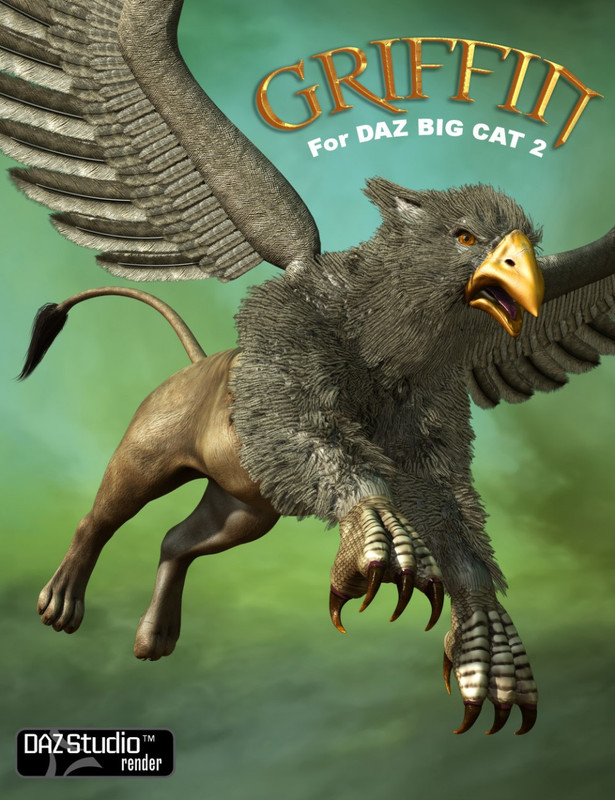 Griffin for DAZ Big Cat 2
The Legendary Griffin has the body, tail, and back legs of a lion, the head and wings of an eagle and an eagle's talons as its front feet. As the lion was traditionally considered the king of the beasts and the eagle was the king of the birds, the griffin was thought to be an especially powerful and majestic creature.
This Shape is for the "DAZ Big Cat 2" and it comes with five Material presets and five great poses. As a first of it's kind, it comes with a set of conforming feathers for the body to give it a super real look, plus matching Material presets. I have also created a special fit pose for the Griffin Wings so it's easy to set up, even with the matching presets.
This is a must for all you wizard fans out there! Also included is full DSON support for Poser 9+. Below you will find a Video Tutorial for fitting the Griffin Wings to the Griffin.
https://www.daz3d.com/griffin-for-daz-big-cat-2


| Required Product | Link |
| --- | --- |
| Griffin Wings for DAZ Big Cat 2 | https://3daxis.org/griffin-wings-for-daz-big-cat-2/ |
| DAZ Big Cat 2 | https://3daxis.org/daz-big-cat-2/ |
| Griffin Wings | https://3daxis.org/griffin-wings/ |
You need to be a member to see this